Vivian Vassos | July 31st, 2021
Hydration. It's all you really need to make sure there's water, water, everywhere.
Studies show that drinking water regularly (6 – 8 glasses a day) keeps us healthier, allows all of our internal organs — including our brains — to function better, and helps our skin — the body's largest organ — look better, too. But even though the heat may be on, skin sometimes needs a boost to lock that moisture-boosting hydration in.
"It is important to stay hydrated all year round, but this becomes especially challenging during the summer due to hot temperatures and the effects of the sun and air conditioning," says board-certified dermatologist Dr. Dendy Engelman. "If we don't properly replenish our bodies and skin with hydration, we run the risk of becoming dehydrated, which has numerous adverse impacts on our skin and bodies."
And, without hydration, skin loses its bounce, she adds, "It's not as firm or bright, so fine lines and wrinkles appear more exaggerated."
Soke Beauty Chest/Decolletage Treatment Masks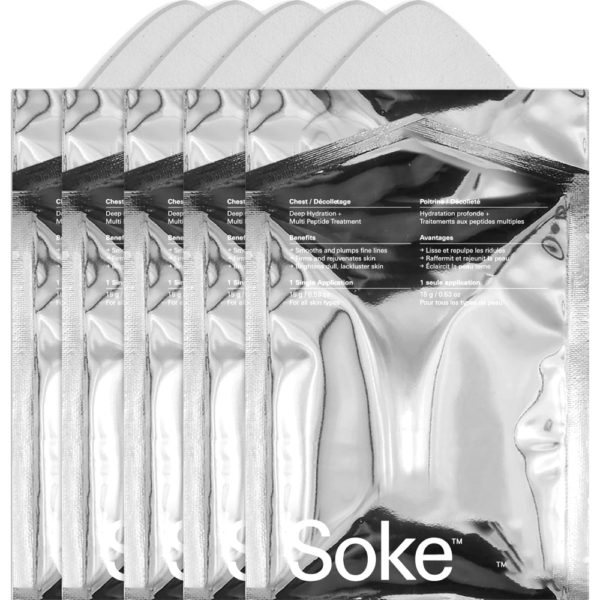 Made with a hydrogel infused with peptides, Camellia Sinensis leaf extract, sodium hyaluronate and a tightening complex to help diminish fine lines, infuse moisture, tighten, build collagen and firm the skin. After nearly two decades acting as director of Toronto-based plastic surgery medical spa, founder Amy Newman Brown saw a need for patients wanting to take greater part in their self care outside their procedures. "Soke is about aging with agency and the concept that luxury is more about time than money," says Newman Brown. True to her word, unlike many other chest masks where you wear them while you sleep, Newman Brown's Soke promises to show results in just 30 minutes.
Source: https://www.everythingzoomer.com/lifestyle/2021/07/31/stay-hydrated-15-summer-beauty-essentials-for-skin/